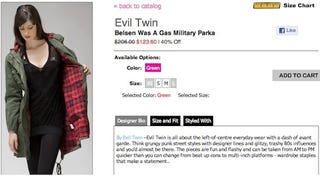 A day after we pointed out that an online fashion retailer, BuyDefinition, was selling a jacket named "Belsen was a gas," the company is apologizing and saying they'll pull the item.
[Los Angeles, March 14. Image via x17.]
A new documentary claims that Sid Vicious may not be responsible for the death of his girlfriend, Nancy Spungen, who was found stabbed to death on the bathroom floor of the couple's hotel room.
In the video above, a group of Australian women over the age of 80 perform the 1977 song "God Save the Queen" by The Sex Pistols, which was originally titled "No Future" and banned by the BBC. It's part of artist Christoph Büchel's exhibit "no future" at the Sydney Biennale 2008. The ladies were given an open gallery…
You've gotta love Vivienne Westwood. The 66-year-old British fashion designer is sorta insane, but she sorta knows it, so it's all good. She hates expensive shit, yet continues to sell it (a girl's gotta eat?) and is basically single-handedly credited with creating punk. When Sabine Durrant of the Telegraph interviewed
The Olsen twins are launching a new clothing line, not to be confused with their other two clothing lines. Called Elizabeth and James and named after the other two Olsen siblings, it's a joint venture with the parent company of Seven For All Mankind jeans with a fascinating theme: The "clash between masculinity and…