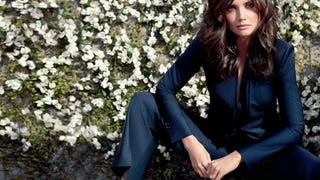 Ann Taylor replaced Heidi Klum with Katie Holmes for the spring season. The brand says it sought Holmes, who's also modeled for J. Crew and been the face of Miu Miu, for "her intellect, kindness and enduring personal style." [WWD]
Tom Ford, a man who immobilized his forehead with Botox, thinks people should go naked. Especially, well... "Fat women almost always look better without the constraint and lumpy pinching of clothes, all the straps and elastic squeezing and sucking." [ContactMusic]
Anna Wintour heard about this so-called "environmentally friendly" fashion, so she sent her crack team of stylists to go out find some of it, to put it in her magazine. Her very eco-friendly magazine. The result? $2,895 trench coats.
A dejected, underwear-clad Lady Liberty-Gaga and a tuxedoed Marc Jacobs, shot by Mario Testino, cover V's newest issue. [NYDN]
Lanvin for H&M is happening! The men's and women's collections will hit over 200 stores worldwide on November 23. [WWD]
To pursue her goal of creating the world's ugliest clothing in every design category known to man, Lindsay Lohan is reportedly in talks to launch a line of handbags with Ed Hardy. [E]
Vivienne Westwood's menswear show on Sunday featured models in frostbitten makeup carrying bed rolls and pushing shopping carts down the runway. It also made us ponder the evolution of the curious (and strangely recurrent) trend known as "homeless chic."
Here's a shot by Mario Sorrenti for the new V magazine. They can call it art, they can call it fashion. But they can't seem to call an actual black model, so let's call it bullshit. [Fashion Week Daily]
September Vogue jumps out on the news stand for all the wrong reasons. On her fourth cover in three years, Keira Knightley's hair looks reminiscent of a baby primate (though not in a cute way), her pose is all wrong for the Balenciaga she's wearing, and her expression has a whiff of self-consciousness and striverdom…