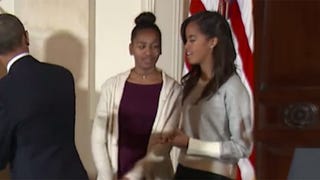 There's not much to say about this except that the facial expressions are golden. To most Americans, he's the president of The United Stated. To Sasha and Malia he's just some embarrassing old dude talking about turkeys and oh my god, will you stop with the corny jokes. Oh my god. They are literally going to DIE if…
Michelle Obama and "first tweens" Malia and Sasha skipped the health care talk President Obama gave on ABC last night and went to a Beyoncé concert instead.
Three children's books about the Obamas' search for a puppy are in the works, and with Michelle Obama's announcement in People that the dog is coming in April, publishers are scrambling to get them published.
The downside of having Sasha and Malia Obama in the White House? Marketing people are suddenly trying to capitalize on their appeal.
For the paparazzi, celebrity snaps are big business, but celebrity kids are better business. And right now, the kids in demand are Sasha and Malia Obama.
Washington Post writer Ruth Marcus has a message for Michelle Obama about the Ty dolls named for her daughters: "Embrace them."
Previously, we heard that Ty was making Sasha and Malia dolls. Now, the company claims the dolls have nothing to do with the President's daughters, and the names were chosen simply because "they're beautiful names."