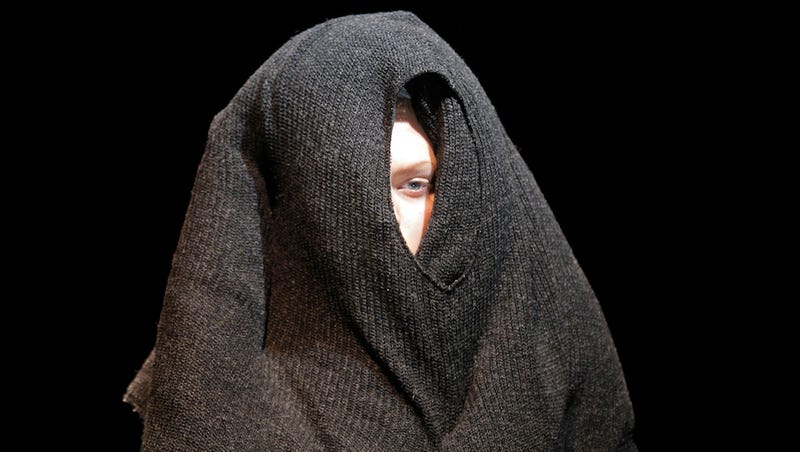 A man (Jacques Hyzagi), deeply angered by the supposed editorial blunders that affected a story (an interview with Rei Kawakubo, the Comme des Garcons designer/artist/genius disdainful of press) he was writing for Elle, has decided to blowtorch the monoliths of the New York media industry, which is to say the outlets…
In the second installment of our Fall/Winter 2015 Fashion Month series entitled "Fuck a ____; Wear a _____," we bid a glad adieu to the tents we were wearing two weeks ago and say major fucking bonjour to these fashionable sleeping bags proffered this week by the god Rei Kawakubo for Comme des Garçons.
If Comme des Garçons' Rei Kawakubo has her way, next spring we will all be praying at the altar of our own ovaries, in her brilliant crimson odes to blood and guts and "roses, but not a pretty rose." It is brilliant, it is sculptural, it is clothing designed to never let the wearer forget that we're literally all the…
Diane Kruger nabbed a L'Oréal contract. [Elle UK]
Yoko Ono turned up to the Tokyo launch of Comme des Garçons' Beatles-inspired line. [WWD]
Dana Thomas — author of Deluxe — wrote an excellent feature on the quagmire of the house of Versace. Thomas takes aim at Donatella and Santo Versace's resistance to change and ham-handed business decisions. It's a thrilling read. [Newsweek]
In the summer of 1981, a young British stylist who'd worked at Harper's Bazaar and Savvy landed at New York Magazine. Her job was fashion editor; her name was Anna Wintour. Peep that staff portrait!
Filling Lily Donaldson's shoes, Emma Watson, 19, will be the face of Burberry. Said designer Christopher Bailey: "Her charm and intellect and brilliant sense of fun made the whole shoot feel like a picnic on the Thames." [Telegraph]
Everyone's favorite human being, Tim Gunn, likes Dunkin' Donuts (Grace Mirabella turned him onto it.) And he can't afford to buy an apartment in New York, either! (Stars! They're just like us!) [Time Out New York]
Conspiracy theories swirl around young model Ruslana Korshunova's apparent suicide. Yes, the Russian Mafia has been invoked. [BlackBook]
M.I.A. on playing the role of spokesmodel, DJ and popular celeb sighting during NY Fashion Week: "Last year I wasn't let into the Marc Jacobs party and this year I own it!" Ah, groundedness. [Fashion Week Daily]