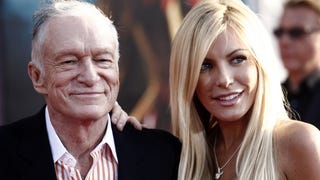 In light of a lengthy new profile of Hugh Hefner, a former editor muses on Hef's passage from icon to ghost.
You might have heard that two of Hugh Hefner's "girlfriends" fled his desiccated embrace recently — Holly Madison for a no doubt more prudent and stable union with
magician Criss Angel
, and Kendra Wilkinson for erstwhile Skype-sex partner (it's "way better than phone sex," she says). But as Hef's "sexual roster"…
We were psyched when we saw the sinister headline "
Once A Playmate Always A Playmate.
" Like, is there some kind of secret Mafia, where they have to take things to their grave? Does Hef keep tabs on everyone from some kind of control center in the Playboy Mansion? We wish. Turns out the piece is just about…