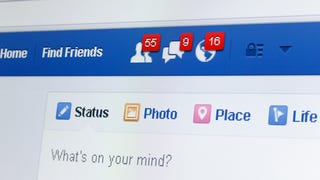 First there was YOLO, the battle-cry of teens everywhere as they demanded other people hold their beers and "watch this, bro." Then there was FoMo (Fear of Missing Out), an existential angst that reminded all of us that we were missing out on everything and that death is both cold and inevitable. And now, just in case…
If there's one thing grown-ups know about kids, it's AAAAAAAHHHHHHHHHH OH MY GOD OH MY GOD OH MY GOD WHAT ARE THE KIDS DOING I DON'T KNOW ANYTHING ABOUT KIIIIIIIIIIDS!!!!!!!!! When media sensationalism meets natural parental anxiety, we get terrifying trend pieces about how sexting is turning middle school into an…
In case you needed something new to feel anxious about now that you've given up zip-lining, here's some info about a deadly pathogen that could be lurking in your furry friends' saliva.
Let me just put this right up front, for all the die-hard disinfectors out there: REGULAR SOAP WILL DO. For almost everything. Really. Not every surface in everyone's life has to be wiped with antibacterial agents, not every child needs to be autoclaved on the daily, not every sneeze needs to be medicated with…
Hey, remember how yesterday popcorn was a magical antioxidant-packed wizard-snack that was saving everyone's life? Well now it's today. And today popcorn is all, "PSYCH!!! I'm eating yo brainz, ding-dongs!" This isn't new news, exactly—we've been hearing about the horrific respiratory issues among popcorn factory…
When the US Census bureau announced this morning that for the first time in US history, the majority of babies born in 2011 were not white, naturally my first thought was to see what paranoids and dum dums on the internet were saying about it, because I'm nothing if not a chronic hater. After all, this sort of topic…
I know what you're thinking. "I totally don't have any bug diseases because bugs respect my personal space!" And that might be true...for now. But according to Scientific American, the tropical Chagas disease—a "silent killer" common in Central and South America—might be more common in North America than anyone…
Amanda Seyfried recently told a magazine that she has panic attacks and gets therapy. She's one of the few to admit that being a Hollywood actress is pretty hard on the psyche — and to be open about treatment. And while we wouldn't wish mental health issues on any individual, there's an upside for society at large.