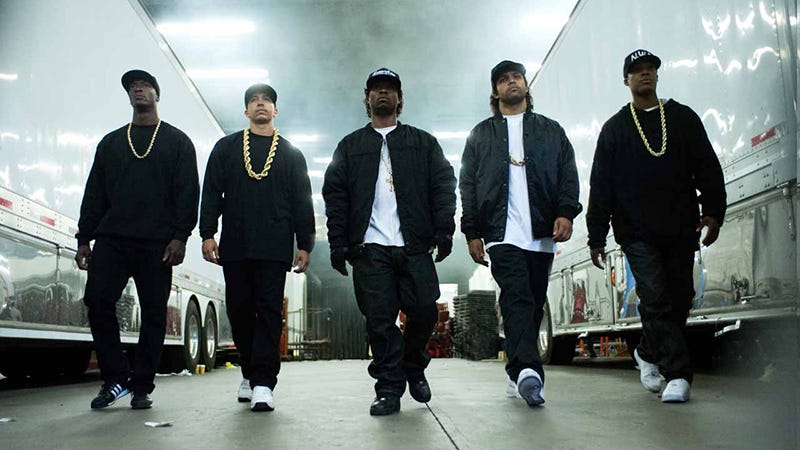 Straight Outta Compton was one of the top 20 highest-grossing films of 2015 and a lot of that had to do with its marketing. Promotion for the movie was damn near everywhere, including Facebook. But as it turns out, white users saw an entirely different trailer for the film than black and Latino users.
On January 27, 1991, at a record-release party for the rap duo Bytches With Problems in Hollywood, producer/rapper/then-N.W.A. member Dr. Dre brutally attacked Dee Barnes, the host of a well-known Fox show about hip-hop called Pump It Up! Dre was reportedly angry about a Pump It Up! segment hosted by Barnes that aired…
While reviews for the NWA biopic Straight Outta Compton have been fairly positive, one prevailing critique is that the narrative conveniently leaves out Dr. Dre's abusive past. In a recent interview, his ex-fiancée—R&B singer Michel'le—states the obvious in explaining the reason that storyline was neglected.
Old school West Coast rap fans who are also feminists are having a rough month, not that it's ever been a comfortable position to occupy: Straight Outta Compton, the NWA biopic which drops today, whitewashes the misogyny that comprised a good amount of the seminal rap group's music and does nothing to mention Dr.…
As a California girl, I grew up in the shadow of NWA even though I was absolutely not allowed to listen to Dr. Dre, Ice Cube, Eazy E, MC Ren and Yella outside of my headphones. Now the group's biopic Straight Outta Compton is on the way, starring Ice Cube's son O'Shea Jackson Jr. playing his father, and from the…
NOOOO! The Greatest Love of All, that of Ice-T and his wife Coco Austin, is going through a rough patch after some photos emerged of Coco dancing with and face-kissing another man, a rapper named AP.9. First, Mrs. -T took to Twitter to downplay it. "Woke up to people in a panic about some pics (sic),please guys I'm…
Now that they each have their own somewhat pointless "lifestyle" websites, the GOOPy one and the Hova decided to interview each other. Gwynnie takes Jay-Z's questions on his site, while he fields inquiries on hers. And the results are...strange. Who knew Gwyneth had opinions about gangster rap that are both deeply…
Rihanna is reportedly attempting to help boyfriend Chris Brown save his public image by bringing him along on animal rescue missions, tracking down stray dogs and cats and placing them in safe foster homes. [TheSun]