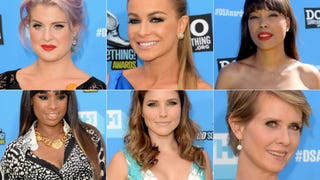 Award shows in Hollywood are generally pretty formal, but when you're talking about a youth-oriented not-for-profit organization partnering with a TV network, you're going to see a more relaxed dress code. That's what happened last night in Hollywood at the DoSomething.org and VH1's 2013 Do Something Awards.…
Speaking of pictures ripped out of Teen People that you glued on your 5th grade Trapper Keeper (weren't we? we totally were), Britney Spurrz has gotten the jump on her boss Simon Cowell. She's quitting The X-Factor before Cowell and the other assorted Powers that Be can fire her, tired of paying her $15 million to say…
Doesn't it seem like Dear John came out, like yesterday? Whatever, The Last Song is here now! And whether or not Nicholas Sparks' shmaltz will leave you weeping, Miley and co's clothes? Certainly will.
According to conflicting reports, Miley Cyrus's little sister Noah is/is not starting her own lingerie/children's clothing/tutu dress line. In any case, cue the hysteria.
South Korean training pants brand Good-Nites released an ad that parodies David Beckham's turn for Armani. Because they are not just functional, but fashionable, kiddies! This makes us a little bit uncomfortable because Beckham is so sexxy. [Copyranter]
[Burbank, January 30. Image via WENN.]
Critics loved Ponyo, Hayao Miyazaki's latest film, and said its fantastical images, total lack of CGI, and unconventional female lead (described as a mix of Ralph Wiggum and the Tasmanian Devil) make it this summer's best animated film.
Miley Cyrus' pole-dance is so yesterday. The latest controversy? Her 9-year-old sister's iteration.
A recent post on ONTD begins, "This is exactly what you think it is: Miley's sista." Right. The taller one with the darker hair is Noah "Noie" Cyrus. On a red carpet. In a swimsuit. Noie was born June 14, 1999. She is nine. The caption on these photos reads: