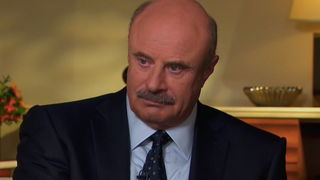 Dr. Phil has an explanation for that sad interview/intervention he conducted with Bobbi Kristina's boyfriend Nick Gordon.
Last Tuesday, news leaked that Chris Brown was the father of a 9-month-old daughter and now, less than a full week later, things are already turning ugly: Brown, according to TMZ, will be taking Nia Guzman, the baby's mother, to family court because he believes she's selling stories about him to the press. Adding…
I bet you've been wondering what's been going on with RihCaprio, the world's most surreal and unfortunately named celebrity couple. According to Us Weekly, Leo DiCaprio helped throw Rihanna a birthday party on Friday night. The singer turned 27 on Friday.
Bobbi Kristina Houston Brown, daughter of Whitney Houston and Bobby Brown, has been the pride and joy of the entertainment industry since the day she was born. The phrase 'growing up in the limelight' is an understatement for a kid with superstar parents best known for their star power and struggles with substance…
The National Enquirer, bastion of all legitimate-and-definitely-not-made-up-by-peoples'-greed-and-imagination news, reports that Brad Pitt and Angelina Jolie's slinky, uber-sexual union is being torn asunder by, of all things, Tivo. Brad's allegedly pissed at Angelina for secretly recording episodes of her ex Jonny…
In which Melissa McCarthy, undoubtedly for the umpteeth time, is asked about her weight and how she feels about it: "Pretty much everyone I know, no matter what size, is trying some system. Even when someone gets to looking like she should be so proud of herself, instead she's like, 'I could be another three pounds…
Next time you're in a Walgreens or a Duane Reade and you see that bizarre Taylor Swift display with the swag and the CDs and shit, offer your condolences to her 2-dimensional cardboard likeness, for she and Conor Kennedy are no more. Apparently the two "quietly parted ways awhile ago" and "it was a distance thing."…
We've all wished and hoped and prayed it would not come to this, but it seems even a collective scream of "Nooooo!" from all of humanity was not enough to stop Bobbi Kristina Brown from getting engaged to her "adopted brother" Nick Gordon. We've been hearing rumors of their coupling and giving the side eye to their…
A special report by British investigative powerhouse the Daily Mirror lifts the lid on Michelle Obama's proclivity towards surrounding herself by handsome famous men – the First Lady ensnaring George Clooney and other sexy luminaries under the pretext of a formal dinner at The White House. Though guests believed they…
When Academy Awards officials told Sacha Baron Cohen that he was only welcome on the red carpet if he behaved like a nominee for Hugo, not like Admiral General Aladeen, the fictional fascist he plays in his upcoming movie, The Dictator, how many of us actually believed Cohen would listen, especially after he filmed a…