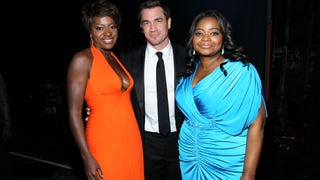 Viola Davis, director Tate Taylor, and Octavia Spencer at the 43rd NAACP Image Awards. Images via Getty.
There were lots of odd moments in last night's episode, and Lafayette's hallucinatory PTSD moment was one of the weirdest.
While this season is obviously building towards something, it feels like there have been way too many orgy scenes and not enough deliciously bad vampires doing vampire stuff. But maybe our…
Why waste time with whatever lame pillow talk Bill and Sookie are having when you can have scenes with Lafayette?