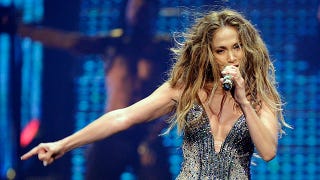 Superstar Jennifer Lopez
got a little emotional during a concert last night at the Mohegan Sun casino. It all started when she sang "If You Had My Love." During the number, she—perhaps unwisely—had dancers on stage dressed to look like her and her former flames, including P. Diddy, Ben Affleck, and Marc Anthony.…
Today in London, Sir Paul McCartney said he wanted to hold Nancy Shevell's hand for life. Okay, not in those exact words, but the former Beatle did say "I do" to the 51-year-old American businesswoman who he's been dating since 2007. The two exchanged vows at Old Marylebone Town Hall, the same place where McCartney…
[Beverly Hills, January 17. Image via Getty.]
Madonna and Jesus Luz are reportedly planning a "commitment ceremony" in front of a rabbi at the Kabbalah Center in New York. Oooh, and a source says:
Etta James says when she was ripping Beyoncé about singing "At Last" for the President, "I didn't really mean anything…"
Prince Harry and his girlfriend of nearly 5 years, Chelsy Davy, are dunzo: Davy initiated the break up and has already made the breakup official by changing her Facebook relationship status to "single." Oh, snap!
Cameron Diaz and Gerard Butler: Three dates in ten days. Touchy-feely everywhere. It's like, so on. Yeah, this is the kind of news that makes us ache inside. You, too? [Mirror]

Neither Beyoncé nor Jay-Z have confirmed that they were married. But on stage in North Carolina on Saturday, Mary J. Blige (who is on tour…