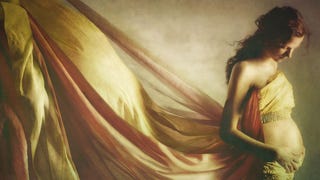 A young and "very photogenic couple" — he keeps it real with "original (not cliche)" tattoos, she is a "beautiful and petite" goddess — seeks an imaginative yet tasteful photographer to document the upcoming all-natural water birth of their son. Ideally, said visionary will do it for free, out of the goodness of his…
OK! Magazine prepared a story about Kate Middleton's "post-baby weight loss regime" — Kate's trainer says her stomach will "shrink straight back," for those of you who were concerned — before the royal spawn had emerged from her womb. Disgusting, yes, but you're pretty dumb if you're shocked by the preemptive…
Childbirth, typically a pretty straightforward (in-and-out, you might say) procedure, costs a staggering amount of money in the United States because pregnant women, uninsured or otherwise, are billed item by overpriced and often unnecessary item. Meanwhile, citizens in other developed countries enjoy the same access…
Juggling a career and raising children is, without a doubt, a truly impressive feat. However, as Ayana Byrd argues in Marie Claire, juggling a career and being childless comes with challenges of its own — namely, that employers assume that you don't really have any valid external demands on your time. This, Byrd…
The Telegraph reports on a new birth trend: being subjected to the disgraceful marketing strategies of sales representatives who pay British hospitals for access to new mothers, whom they hope to take advantage of for profit. Sometimes the salespeople will begin badgering new parents mere minutes after birth. So…
Delivery rooms increasingly resemble gladiator-style amphitheaters where uninvited family members cram in to watch women give birth, according to Today, which describes situations "rife with drama as grandparents-to-be vie for the best camera angle, or a mother-in-law angles to be the one feeding ice chips between…
The National Women's Law Center filed a complaint today with the U.S. Office of Equal Employment Opportunity Commission (EEOC) on behalf of Amy Crosby, a 30 year-old pregnant hospital cleaner in Tallahassee, Florida who had to go on unpaid leave because her employer, Tallahassee Memorial Hospital, wouldn't…
Notoriously "gender blind" Yahoo CEO Marissa Mayer is now mandating that employees become "one Yahoo!" by "physically being together," literally: no more working from home.
If there's one cause both left and right-wing Americans can stand united behind, it's moms: both the Republican and Democrat Conventions couldn't have been more mom-obsessed if they had actually taken place in a hospital maternity ward. But almost half of all Americans are single, and 44 percent of American women…
Last week, we learned some depressing news about depressed stay-at-home moms: they're way more likely to spend time feeling sad and angry than employed moms, who are about as emotionally content as working women who don't have children.
What if you took two parts vintage photography, one part wacky hair, three parts adorable back stories, added lashings of reader-submitted content, and then called your mom, who loves you? You'd get the awesome blog My Mom, The Style Icon.