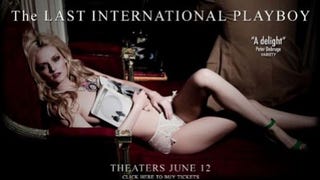 Posters The Last International Playboy, featuring Lydia Hearst in a state of undress have been banned in major cities. We just hope all this publicity right ahead of the June 12 release won't harm its box-office! [Observer]
The style bar is set pretty low for men of Morley Safer's age. As long as you remember two things — shave, and wear clean clothes — you'll at least look dignified.
On 60 Minutes last night, Morley Safer used the word "bitch" repeatedly while interviewing Vogue's Anna Wintour. He also gleefully insulted the fashion industry, saying:
One reason 60 Minutes producers have taken such a long time to broadcast the Anna Wintour 60 Minutes profile they've been filming since November: their footage contained spoilers for the recently-released May issue.
PETA named Madonna one of its 6 worst-dressed celebrities, along with "Maggot" Gyllenhaal and the Olsen twins. "Someone needs to tell Madge that wearing fur doesn't make you a cougar," the animal-lovers sniffed. [PETA]
[New York, February 20. Image via Getty]