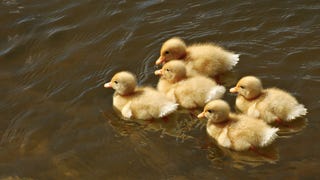 A woman in Canada who was pregnant with quintuplets shocked both hospital staff and her boyfriend when it turns out she wasn't pregnant at all. With any-lets. I've heard of faked cancer, faked weddings, faked girlfriends who live in Canada who were met "at summer camp," but this. This is powered up fakery.
[Montreal, May 12. Image via Getty]
Gunman George Sodini may have entered a Pittsburgh gym alone on Tuesday night. But he was part of a string of mass murderers of women — and a loose-knit group of misogynists who encourage manipulation and hatred.
On June 30, three teen girls and a 50-year-old woman were found dead in a submerged car outside of Kingston, Ontario. Now the girls' parents and brother have been arrested, and many are asking whether this was an "honor killing."
A Montreal woman is being ordered into therapy after making 10,000 crank 911 calls, and a NY crank caller has been arrested for getting a woman to perform a rectal exam on herself. [NYT, Gothamist]