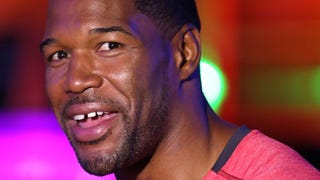 Former NFL star/current morning show host Michael Strahan will be among the dudes who strip in the Magic Mike sequel. "It's kind of a thong thing," Strahan says of his on-screen costume. He adds: "I don't think I'm hairy on the back end, but maybe I do need to be waxed… I've never done anything like that."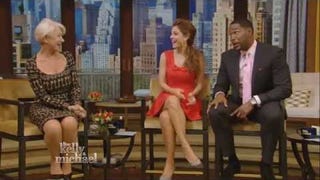 Sometimes people twerk and it's embarrassing; other times people twerk and it's downright delightful because they know they look crazy and they aren't trying to peddle black culture (ahem, Miley). Their goal is simply a cheap laugh at their own expense. Case in point: This morning, Helen Mirren put her hands on her…
In a new interview, Notebook director Nick Cassavetes revealed that Ryan Gosling and Rachel McAdams's relationship during filming wasn't quite as cozy as their characters (or their later 2-year romance). In fact, they fucking hated each other, to the point where Gosling once asked for McAdams to be removed from the…
Lest we forget that actress, newsman progeny and occasional BCBG shopper Allison Williams exists while Girls is between seasons, she and her boyfriend College Humor founder Ricky Van Veen are giving an "intimate" talk at Yale — Williams was Class of '10 — about "TV, film, and the Internet." Perhaps misleadingly, it's…
Good thing you didn't hold your breath waiting for the sequel to the 2001 comedy Zoolander, or else we'd be saying your eugoogly right now (sorry). But Zoolander 2 is coming around the bend now, I guess, featuring the return of Ben Stiller and Owen Wilson as male models Derek (who actually resurfaced recently at The…
As part of Mittens Romney's ongoing image renaissance, he and Ann Romney stopped in for a chat on Live! With Kelly And Michael. The interview airs Tuesday, but a partial transcript is available over on The Washington Post.
The Ryan Lochte/Prince Harry Vegas bacchanal news continues, now with additional cavorting! Undoubtedly under the spell of jeah, England's prodigal son Harry played a game of strip pool in Las Vegas that ended with him butt-naked, freaking with the girl next door (see above), and Wales lawyers were undoubtedly like,…
"It's out of control. There's always a different boy and everyone is worried he's going to pull a Halston." That's an anonymous friend of Marc Jacobs on the increasingly-erratic fashion designer. [Page Six]

Ouch: David Lauren was not invited to his girlfriend (of three years) Lauren Bush's cousin Jenna's wedding. You…