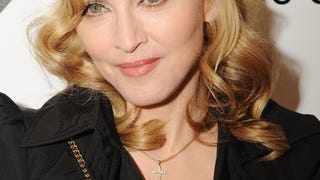 It would be fairly epic if Madonna became a judge on American Idol.
Lindsay Lohan is suing E-Trade for creating a commercial in which a boyfriend-stealing, "milk-aholic" baby is named Lindsay. Here's the thing about LL's lawsuit:
Tim Burton seems like the perfect director to bring the nonsensical classic Alice In Wonderland to 3-D life, but critics say the most surprising thing about the film, opening today, is that it feels like yet another CGI fantasy movie.
The new single from a singer named Lola is actually a track by Jennifer Lopez.
Heidi Klum is changing her name to Heidi Samuel! Did you know that her husband's real name is Seal Henry Olusegun Olumide Adelo Samuel? Short and sweet. [TMZ]
Video: Samantha Ronson peels out of a Vegas club parking lot. A minute later, Lindsay Lohan emerges, saying, "Did she leave? She fucking left? Where's my car? I want my fucking keys now." [TMZ]
[Long Beach, California; May 20. Images via Flynet]