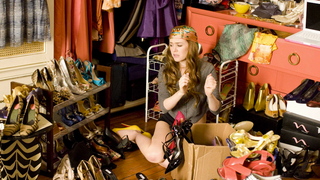 If you're the kind of person who found both the book and movie for Confessions of a Shopaholic to be stunningly accurate depictions of the sadness that comes from valuing material possessions too much, a new study from the Journal of Consumer Research has got your back. Researchers have found that the more…
One August afternoon when I was fourteen, my friend and I somehow acquired enough cash to rent a white stretch limo for an afternoon to drive us around Calabasas, the affluent San Fernando Valley suburb that spawned and still comfortably hosts the Kardashians. A few years after our impromptu joyride, the "Bling Ring"…
Everyone likes to talk shit abut Millennials. Old fogeys are always like, "You don't know the value of a dollar and a hard day's work!" Hey, all you oldies. As a millennial, I know what hard work looks like. One time, my parents didn't get me an iPhone when they just came out even though I worked really hard as a…
Why aren't women happy? We have shoes, fancy meals, lots of clothes, and even girlfriends to share it all with, SATC-style. But we're just not content, or so says the Times of London.
"I could walk downstairs now and buy a Ferrari, but all of my friends are hurting. I don't feel like buying random toys." This wealthy coxcomb, one Michael Hirtenstein, has fallen prey to what Newsweek terms the new phenomenon of "luxury shame," in which rich people feel uncomfortable throwing money around. So now…
In a new book, Christopher Jamison, a prominent Catholic cleric in England, has become a vocal critic of Disney and what he sees as the company's encouragement of materialism in children. While Jamison says that the Disney movies often have a moral message of good triumphing over evil, the products that go along with…
Researchers have developed a new scale for determining if someone is a
serious shopaholic
— a condition that can lead to family conflicts, financial problems, and depression. Previous methods of measuring compulsive shopping tended to focus on financial distress, something that compulsive shoppers with higher incomes…
Regular magazines are getting more like women's magazines every day. Here's where we post our egregious examples!
"I start at 10 o'clock, and I do what I call 'The Four B's' — Barney's, Bendel's, Bergdorf's, and Bloomie's." So starts one of our favoritest stories in this month's , the vaginamost general-audience…