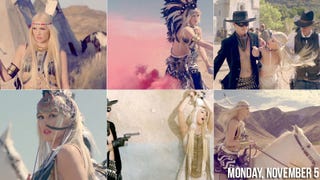 Not since Cher (and let's face it, Cher's fun—not to mention part Cherokee) have we seen quite this level of stereotypical camp when it comes to Native American imagery in a music video: No Doubt has just pulled the cowboys-and-Indian-themed video for their second single "Looking Hot" after YouTube commenters informed…
Today is Marlee Matlin's 47th birthday, so let's applaud her for a sec, because I could really use an inspirational story today, couldn't you? Matlin is the youngest actress and the only deaf performer to win the Academy Award for Best Actress in a Leading Role, which she won for Children of a Lesser God. What's more…
In this week's compilation of pop culture crap, Charlie Sheen's scent is music to his fans' noses, noted fashion photographer Nigel Barker gets makeover, and the "hiccup girl" is a total asshole.
Yes, it might be stating the obvious that someone who is on trial for murder might have a personality problem, but …
In this week's compilation of pop culture crap, 30 Rock does Real Housewives, American Idol takes censorship too far, and Marlee Matlin teaches us about attitude.
This chick is joking about her toddlers being overachievers because they have good "scribbles," right? Right!? I mean, normally, I would think that…
Last week, Us Weekly declined to publish a photograph picturing Jesse James doing a "Heil Hitler" gesture. But this week, guess who's running the picture?
Some people were offended by the jokes Alex Borstein made about Marlee Matlin's speaking voice on Sunday's Family Guy special. She says, "It was sick. It was twisted. It was rude... and I was glad to be part of it."
[Los Angeles, May 6. Image via Getty]
Jamie Foxx apologized on the Tonight Show for his statements about Miley Cyrus (he called her a "little white bitch" and suggested she should "go catch chlamydia from a bicycle seat"), telling Jay Leno:
Thank God for Oscar fashion because the awards themselves dragged... on... forever. And on last night's red carpet? Lots of, well, red. Heidi Klum, Miley Cyrus, Katherine Heigl, Anne Hathaway, Ruby Dee, and Helen Mirren were just some of the women who matched their gowns to the carpet they were posing on. But the…
[Los Angeles, CA; February 24. Image via AP.]