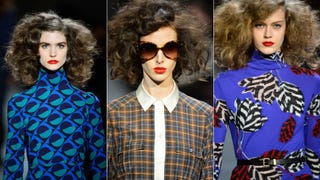 The fall 2013 collection Marc Jacobs presented for Marc By Marc Jacobs last night had a definite 1970s vibe: Deep colors, busy prints, plaid, wide lapels. A couple of the ensembles feel very Lily Tomlin from 9 to 5, and that's not a bad thing. Some of the satin stuff doesn't seem practical, but there are a lot of very…
Stylist and sometime America's Next Top Model judge Nolé Marin has been accused of sexual misconduct by a male model, who says that Marin fondled him at two photo shoots, and offered to kick-start his career in exchange for sex.
While Vogue may have a history of passing over models of color, little sis Teen Vogue has a much better scorecard. And the March issue keeps the diversity alive.
Change! Stately old American Vogue is apparently seeking to revamp itself. Says Wayne Sterling, the mag wants "a new circle of models, an influx of fresh, young photographers and a desire for 'unpredictability' in the stories." Unpredictability. In Vogue. [TI]
Sam Ronson is mad at the animal-rights protester who threw flour on LiLo's fur stole! Blogged the DJ, "the girl who threw [the flour] acted like an animal herself...I take that back, it's an insult to animals to group her in with them, my dog is FAR more civilized than that person." [ElleUK]
Meanwhile, Natalie…
After Monday's rad Marc Jacobs show, it's no shocker that the younger, slightly lower-end Marc by Marc Jacobs ready-to-wear collection is a delight and a despair. Like MJ, it's eclectic and belt-heavy. But it's also young, fun and completely wearable, from the flirty silhouettes to the bold prints. Yeah, some of it…
"We'll get her," says Harvey Weinstein of ELLE's Nina Garcia (Weinstein) is being sued for breach of contract for taking Project Runway from Bravo to Lifetime. While Weinstein is probably the first person to say anything about wanting to continue to work with Garcia, we find his statement more creepy than…
Four major labels — Marc by Marc Jacobs, Behnaz Sarafpour, Monique Lhuillier, and Narciso Rodriguez — showed their fall looks late yesterday, and though the collections seemed, at first, completely different, there was a major thematic similarity: namely, that they played against type. Rodriguez, celebrating his…
The fickle fashion folk can never decide about who they love and who they love to hate. Vera Wang was all but the laughing stock of the Fall 2007 shows last September, but lo and behold, Style.com — brought to you by the meanest of the mean at Conde Nast — is now championing the Vera Wang-designed babushka! Yup, the…