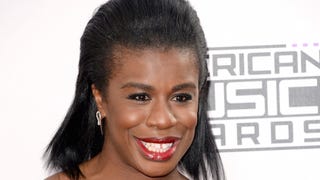 Jezebel Shero Uzo Aduba just landed a project starring with Maggie Grace in a Southern drama set in 1977. Yes, Crazy Eyes!
Last night, Louis Vuitton and Vanity Fair hosted "Sunset Cocktails with the West Coast Editor" on Rodeo Drive. And shit got real. I'm not just talking about a guest list that included January Jones, Christina Ricci, Kristen Bell. No: Sexyface!
For the May Vogue Mexico cover, Gisele Bündchen pulled virtually the same pose that was captured on the April cover of American Vogue. [DesignScene]
Miley Cyrus wears a silver corset that costs $25,000 in her latest music video. [Us]
Stars, as we know, enjoy store openings. And the Vera Wang Store Launch in L.A. was the Rolls Royce of store launches. Hence, Reese and Mila and Nicky and Renee were all representing - in their shopping best.
It's safe to say that, by this point, everyone knows everything they need to know about Tina Fey and Amy Poehler's new movie, Baby Mama. But did you know that it opened last night at the Tribeca Film Festival? And that, in addition to Fey (left) and Poehler, SNL peeps Rachel Dratch, Molly Shannon and Lorne Michaels…