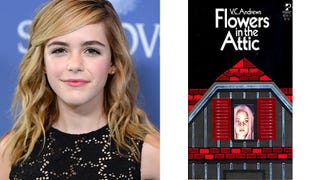 Precocious and sexually curious 14-year-olds of the '90s will be thrilled to hear that Kiernan Shipka will be starring as prima ballerina and brotherfucker (SPOILER) Cathy Dollanganger in the Lifetime remake of V.C. Andrews' Flowers in The Attic. Perfect! Sorry, Kristy Swanson. First Buffy, now this.
Lupe Fiasco's new track (and video), "Bitch Bad," attempts to examine the complications of the word "bitch," specifically in hip-hop. The lyrics tell the tale of two kids — one a little boy and one a little girl — who interpret and internalize the word in different ways.
What could bring together Christina Hendricks, Dita Von Teese, Kristin Davis and, um, Marilyn Manson? Why, Vivienne Westwood, of course! Specifically, the opening of her Los Angeles store. And naturally, the clothes were noteworthy.
Christina Hendricks, a woman who never "downplays," "minimizes," "draws…
A source claims that Lindsay Lohan and Samantha Ronson are still talking after their breakup late last week, but that Sam has "begged Lindsay to get help." Lohan is reportedly "heartbroken" over the split. [People]