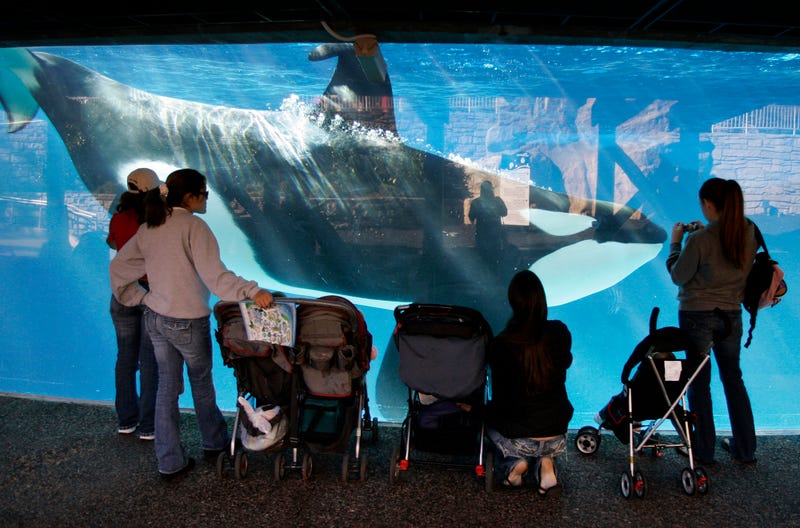 After years of public outcry and declining attendance over killer whale conditions at SeaWorld, the company's San Diego facility announced that its final killer whale show will take place on Sunday, according to the Associated Press. There are 11 orcas at the park, ranging in age from 2 to 52 years old.

Tilikum, the famous killer whale sadly best known for being involved in the deaths of three individuals, has died at SeaWorld's Orlando facility, the company said Friday. He was approximately 36 years old.

Shortly following SeaWorld's long-awaited announcement on Thursday that it will finally end its absurdly inhumane orca breeding program, the Associated Press interviewed some visitors to the park, who were bummed that "the kids" wouldn't get to stare at psychologically damaged animals up close anymore.
The good news: SeaWorld announced on Monday that its San Diego park will phase out their killer whale show by 2017. The bad news: those same orcas will continue to perform in a similarly shitty but vigorously re-branded version of the current show, with "experiences that look more natural in the environment." Oh, word?
After a long day of speeches, the California Coastal Commission voted to ban captive whale breeding in SeaWorld's San Diego park, as well as to significantly restrict the movement of whales in and out of the park. These were set as conditions for the approval of SeaWorld's $100 million habitat expansion, which…
The gut-wrenching documentary Blackfish is having the exact effect SeaWorld worried it might have: it's putting people off of SeaWorld, most recently musical acts like the Canadian band Heart, Willie Nelson, and Barenaked Ladies.
There are only a few lucky species of animals that experience the hormonal scrapple that comes with menopause. Humans, for example, experience menopause so that mothers-in-law don't spew too much vitriol on the temptresses that have bewitched their baby boys. And to conserve resources or whatever. Killer whales, on…
A former SeaWorld employee is alleging that poor safety practices led to a trainer's drowning — but a congressman is coming to the park's defense. How many people have to die before we stop seeing killer whales as entertainment?