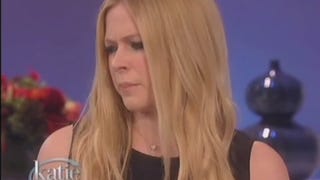 Avril Lavigne is still promoting her new self-titled album, which meant that Friday afternoon she went on Katie to talk about her grown-up sound and – most importantly – her endlessly fascinating relationship with Nickelback frontman Chad Kroeger.
Season two of Katie Couric's Katie has just started, but however long it will be on air is anyone's guess. Barbara Walters is slowly fading into that good night on The View, despite her original protestations. So what better way to fix this daytime talk show kerfuffle than have Katie Couric replace Barbara Walters on
Tuesday afternoon's episode of Katie was entitled LOVE BEHIND BARS and if that doesn't make you wish you'd watched it, Katie Couric interviewed Phil Spector's wife Rachelle, former journalist Amy Friedman who married a man she met while interviewing him in prison, and Erin Brockovich, recently arrested for a BUI…
Rihanna has a new song, with guest vocals by Lady GaGa, titled Silly Boy. Kanye West posted it online, and the lyrics are:
Lindsay Lohan and Samantha Ronson: On the rocks??? Apparently LL loves to party and Sam is shuns the spotlight; plus Sam's a thoughtful person and isn't sure how she comes across in this "celebrity romance." Gah. [Daily Mail]
Wait a minute! Sam proposed?! While she and Lindsay were on vacay in Mexico! With a Cartier…
Oprah! In final talks! To be on 30 Rock! She'll play herself in scenes with Tina Fey's character Liz Lemon. Will Arnett and Jennifer Aniston are also making appearances on the show this fall. The bad news? The season premiere doesn't air until October 30. [E!]
Paris Hilton has "manipulated" the Toronto Film Festival…
Teh hotness Diego Luna is a
proud papa!
His wife, fellow Mexican actor Camila Sodi, gave birth to a baby boy in L.A. yesterday. • Unbeweavable news: Tyra is walking around with Oh, Ty Ty! Your follicular choices will never cease to entertain us! • [, ]