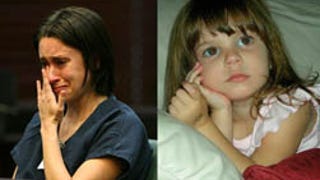 Casey Anthony, the 22-year-old Florida woman charged with the murder of her 3-year-old daughter Caylee earlier this year, has some
terrifying evidence stacking against her.
According to , a recent search showed "that terms such as 'neck breaking' and 'household weapons' were entered into the computer at the Orlando…
Sherri Shepherd is telling people to
ignore the rumors of strife
between Elisabeth Hasselbeck and Joy Behar propagated by an "unnamed source." Says Sherri, "Wherever you are, Unnamed Source, I hope they're paying you some good money to do all the lying you're doing. I hope you're able to pay that rent with the $50…
On Friday a "gonzo porn" director named "Max Hardcore" was sentenced to 46 months in prison on obscenity charges. Some are arguing that this is a violation of the 1st amendment, but blogger Susannah Breslin has a
more nuanced take.
"In Max Hardcore movies—"Anal Agony," "Hardcore Schoolgirls," "Max! Don't Fuck Up My…
This is Antoinette Richardson. A young punk cut in front of her in line at a London supermarket, and Antoinette was so enraged that she called her thug boyfriend, Tony Virasami, to the market to regulate. What happened next is awful, but not surprising, when you consider that Tony is the kind of out of control person…
Taking extreme measures in the face of extreme poverty is not just a problem for India's daughters, but for Afghanistan's young girls as well. According to the BBC, an increasing number of very young Afghan women are being married to older suitors in exchange for money or livestock because their families can barely…
24-year-old Meredith Emerson, the Georgia hiker murdered in January by disturbed drifter Gary Michael Hilton, fought to the very end, according to authorities. Emerson was hiking alone with her dog when Hilton, 61, first tried to attack her with a knife, and Emerson grabbed it from him and attempted to use her martial…
Heath Ledger's death has reached the highest levels of government: President Bush postponed a promotional event related to preventing prescription drug abuse in the aftermath of the actor's death, which was possibly caused by sleeping pills. (An autopsy on the actor has returned "inconclusive" results.) White House…
The body of Meredith Emerson, the Georgia hiker who went missing on New Year's Day, has been found. Her probably killer, Gary Michael Hilton, led authorities to Emerson's body, which Hilton had dumped in Georgia's Dawson Forest Wildlife Management Area, about 30 miles south of where Meredith had been hiking with her…