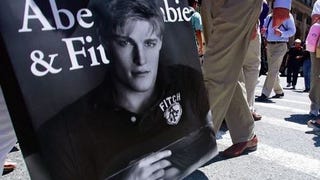 Abercrombie & Fitch was named one of America's worst companies by Corporate Responsibility Magazine. Weight Watchers also earned the dubious plaudit. [NYTimes]
The new L'Officiel is a tribute to Alexander McQueen, and includes over 1000 photos of his work. [DesignScene]
Mega defense contractor Kellogg, Brown, and Root is preparing to fight former employee Jamie Leigh Jones over her right to settle her suit with the company, all the way to the Supreme Court. Its strategy? Destroying Jones' credibility.
Conan O'Brien and NBC are still negotiating the terms of Conan's exit from The Tonight Show. One of major points of contention: Who gets custody of Triumph the Insult Comic Dog, Pimpbot 5000, and the Masturbating Bear.
• A Washington D.C. police office was caught on video this weekend waving his gun at a large group of adults having a snowball fight. When confronted, he said he drew his gun, ''because I got hit with snowballs.''
Chris Brown's lawyers are arguing that Rihanna shouldn't have to testify in court because her name and other information was leaked. They say she shouldn't be forced to compromise her privacy any further. [TMZ]