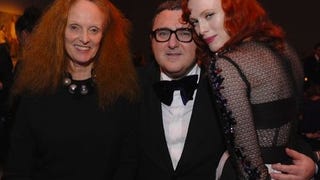 H&M's videos of its newest designer-collaborators have inspired lots of guessing, but Women's Wear Daily is reporting that one of the designers is Alber Elbaz of Lanvin. (BryanBoy agrees with this.) Lanvin for H&M? That could be glorious. [WWD]
Has Lindsay Lohan turned over a new leaf? She says she's "going to India soon, before Thanksgiving hopefully," to film a BBC documentary on the trafficking of women and children.
Yesterday afternoon the police were called to Mischa Barton's home to help with a "medical issue." Now a source says she's been placed under involuntary psychiatric hold.
[St. Barts, French West Indies; January 2. Image via x17]