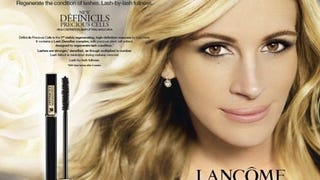 In a shocking turn of events, Julia Roberts was airbrushed down to her (now disappeared) pores for her first Lancôme ad. [Daily Mail]
Louis Vuitton's fanny pack is exactly as hideous as you'd expect — and costs $1,970. [TLF]
Love Ball London, hosted by Natalia Vodianova and Harper's Bazaar at The Roundhouse, brought out fashion's brightest stars. And their friends. And Kate Moss was blase.
This is what Gisele Bundchen looks like, pregnant — only not, because London Fog retouched her stomach flat again. Is this the world's first prenatal airbrushing? [WWD]
Michelle Obama wore Michael Kors to celebrate the National Design Awards winners on Friday. "What I love about design is the artistic and scientific complexity that becomes useful," said the first lady, to a crowd that included Francisco Costa. [WWD]
After Palin names Escada as her fave brand, the creative director is gracious: "If she does wear Escada because she likes it, I mean, I'm honored actually. It's not politics; it's clothing, after all. No? She's an attractive woman, so why not?" [New York Mag]
Fashion's totally in the tank for Obama — but we knew that.…
Miramax mogul Harvey Weinstein and Marchesa co-designer Georgina Chapman got hitched on Saturday night at Weinstein's home in Westport, CT. The bride wore Marchesa, the groom Tom Ford, the Gypsy Kings gave a private concert and even Vogue's Anna Wintour attended. Also there: Model Natalia Vodianova, celebrity stylist…