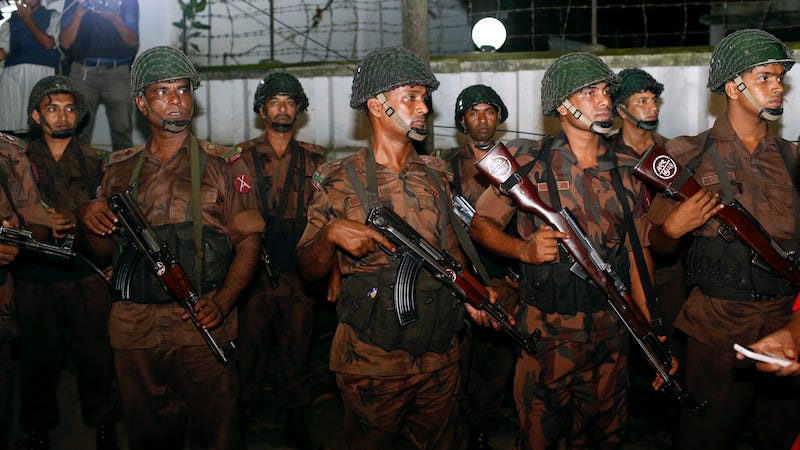 Late Friday night in the diplomatic district of Dhaka, Bangladesh, ISIS gunmen carried out an attack at one of the city's popular local restaurants. Two policemen have been killed in the vicious, ongoing standoff, and 30 have been injured.
For over a year, human rights activists and journalists have been documenting the ways in which rape and sexual slavery have become a cornerstone of the "theology" of ISIS. On Tuesday, Reuters reported on a detailed fatwa issued by the group, which makes it clear, once again, how thoroughly rape and sexual slavery are…
As the U.S. panics over the mostly made up threat of Syrian jihadists entering the country as refugees, investigators in Europe have discovered that the majority of men responsible for the horrendous November 13 attacks in Paris were European citizens who had traveled to Syria where they joined the Islamic State (ISIS…
Horrifying reports continue to pile up about the ways in which the Islamic State is using the rape and sexual slavery of Yazidi women as a tool of war. A new report in the New York Times makes it clear that it's also become an attractive recruiting tool, a draw for men from conservative Muslim societies where casual…
Two Syrian civilian women were publicly beheaded alongside their husbands by the Islamic State this week, according to a report by the Syrian Observatory for Human Rights.
Zainab Bangura, a U.N. special representative, recently concluded a tour of refugee camps that house refugees largely from Syria and Iraq - countries where the Islamic State hold a large amount of territory. The Washington Post reports that she recounted the stories of sexual violence, rape and abuse to Middle East…
On Tuesday, the White House confirmed that Kayla Jean Mueller, a 26-year-old American woman kidnapped outside a Syrian hospital in 2013, died while being held captive by ISIS. According to media reports, her parents have been provided with at least three photographs of her corpse. So now, naturally, is the time for…
A Syrian woman accused of adultery by the Islamic State has reportedly managed to survive their attempts to execute her by stoning. The Syrian Observatory for Human Rights says the woman was stoned in the streets of Raqqa, but managed to run away after the ISIS militants torturing her believed she had died.
Terrorist group du jour and demonic pieces of shit ISIS — also known as ISIL and the Islamic State — have had a busy year, beheading journalists and aid workers and terrorizing large portions of Iraq and Syria. The group is also systematically raping, torturing and enslaving hundreds of women and girls, a new report…
The UN human rights commissioner has reported that on Monday, Sameera Salih Ali al-Nuaimy, a lawyer known for working to advance women's rights was taken from her home by members of the Islamic State, convicted of apostasy by a "so-called court," tortured, and publicly murdered after criticizing the extremists on…
Earlier this month, fighters of the Islamic State (IS) kidnapped around 300 women as part of their siege on the Yazidi community. Now the Syrian Observatory for Human Rights is claiming to have confirmed that at least 27 Yazidi women have been sold to the jihadist fighters for around $1000 each. Everything continues…