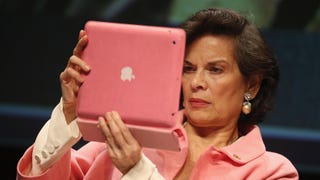 Today in absolutely fucking absurd and transparent gender bias rooted in the widespread male terror of women's mysterious, swampy genitals, Apple apparently refuses to engrave "vagina" or "clit" on anyone's iPad! You can, however, get "penis" or "dick" permanently etched into your electronics with no trouble…
A Florida woman, not content to play second fiddle to any Florida man, has been charged with grand theft for stealing a friend's iPad, after police say she intended to borrow some groceries and a feminine product.
Good news: Disney is re-releasing The Little Mermaid to theaters. But I'm going to have to stop you before you rush to the nearest bathtub to do your best impression of Ariel doing a half-pushup on a rock while a wave dramatically crashes behind her (unless I'm the only one who used to practice pretending to be Ariel…
Not unlike how many of us play games on Facebook to kill time until it's five o'clock, orangutans at Smithsonian's National Zoo are utilizing iPads so they don't go nutso. Because being trapped in a small enclosure can be depressing, it's exciting when zoos strive to incorporate engaging enrichment. The iPads were a…
Carly Fleischmann is a 17-year-old author who has a form of autism that prevents her from speaking. Doctors said she would never intellectually develop beyond the abilities of a small child, but Carly eventually began using a computer to communicate and now carries an iPad with her so she can "talk" on the go.
People already share 97% of the same genetic material with orangutans and now it looks like we're sharing Apple products, as well. Orangutans at Miami's Jungle Island have taken to using iPads as a way of communicating with trainers and visitors through an app (initially designed for humans with autism) in which the…