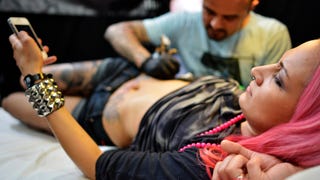 It's been decades since having a tattoo meant you were a member of a dangerous prison, biker, or circus gang, and thank goodness. Because if tattoos were still obtained nearly exclusively by filthy sailors or social deviants, that would mean that three-quarters of people between 18 and 40 were inclined to commit…
You probably don't have a problem with visible tattoos on people working — whether it be a dolphin on the ankle of the check-out lady at the grocery store or some retro-sailor ink on a cute bartender. But in Osaka, Japan's third-largest city, tattoos are not welcome in the workplace… especially if you're a city…
Well-done tattoos can be beautiful pieces of art, but poorly-conceived tattoos can be lifetime emblems of regret. Let's hope against hope that the feelings that Amber Portwood derives from her new ink fall into the former category.
55-year-old Julia Gnuse recently received the Guinness World Record for most tattooed. Gnuse's entire body is covered with illustrations, all the work of one artist. She got her first ink at 35 to hide a skin condition. [TheSun]
Steven D. Levitt at Freakonomics asks (and answers) the ever-annoying question: why get a tattoo? After rejecting the obvious, he zeroes in on the one reason we get inked (and do everything else): Sex.