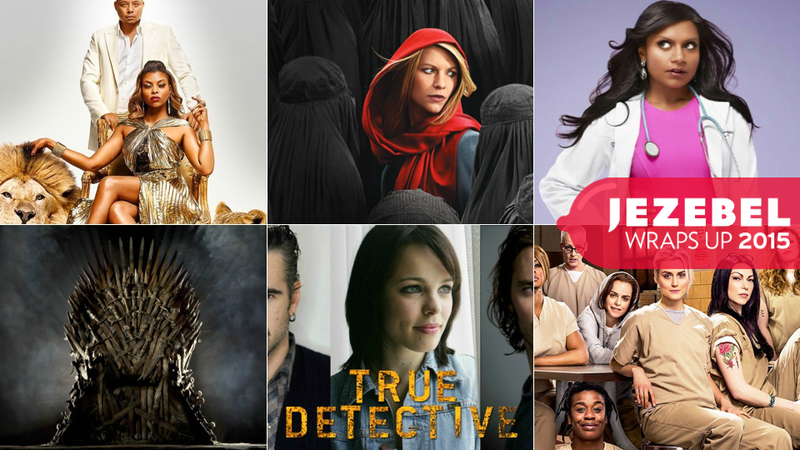 For several years now, we have been in the throes of an era critics like to refer to as a "TV renaissance." This ostensibly means that since the success of The Sopranos and The Wire, writers, directors and producers have been challenging themselves to make better, more literary and long-lasting series, built upon…
Just like you, Jennifer Lawrence is busy and impatient. She doesn't have time to watch television shows on a regular weekly schedule and, even if she did, she's too obsessive to wait seven days for the next installment. This is her situation with Homeland; she's a full season behind because the latest has yet to come…
Over at Think Progress, Alyssa Rosenberg pits Homeland, a "prestige drama" — against Scandal, a "nighttime soap" with a "Trojan Boink" — and finds that Scandal is "more fun to watch." Thoughts?
The fall is upon us: the leaves are turning brown, the children are turning smarter, and if you listen very, very closely you can hear the collective snap of a thousand child-proof caps of Xanax bottles being popped open by anxious TV executives all along Ventura Boulevard. So what's going to die? What's going to…
Katherine Heigl is attached to a new TV show at NBC that the Hollywood Reporter says is being "described as Scandal meets The West Wing." So it's about...the White House. Heigl plays a CIA officer brought in from field work to brief the president.
Claire Danes and her co-star Damian Lewis were recently shot by Annie Leibovitz for American Vogue's August 2013 issue, looking far more glamorous than the usually do on their show Homeland. Unfortunately for Danes and for the magazine, many are calling out what they view as some overzealous photoshopping, for in one…
Say goodbye to sadsacky-turned-sexier Zuckerbergian Charlie, Marnie's (Allison Williams') chewtoy on Girls (have you guys even heard of this show? Because like NOBODY talks about it). Actor Christopher Abbott and the Prince mustache he sports in his downtime have "abruptly" departed from the HBO show shortly after …
To the folks who have been screaming AHHHH YOU GAINED WEIGHT, WHAT ARE YOU, FATNESS EVERDEEN, Lady Gaga continues to level a resounding "Fuck yourself." Although the rumor out of Universal is that they had to order new, larger costumes for her, she told radio host Elvis Duran that she "doesn't feel bad about it. Not…
As anyone who's experienced bipolar disorder in their own brain (or been close to a bipolar person) can attest, it's not all magnificent highs and crushing lows as depicted on television dramas, and treatment is never as simple as one noble, weepy trip to the hospital and back. In fact, many (most?) bipolar people…