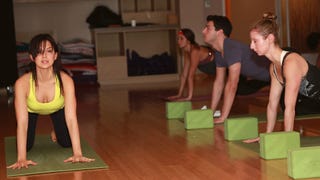 Alec Baldwin's yoga instructor wife Hilaria Baldwin née Thomas, who's been teaching at Manhattan's Yoga Vida since 2005, is being sued by a 32-year-old Yale Ph.D. candidate and HuffPo blogger named Spencer Wolfe, who cites an overcrowded class, her' "negligence" and her request that students "perform a dangerous…
Unfortunately, The Year That Love Died appears to be extending into 2013: Actress, vocal feminist and possible Kentucky senatorial candidiate Ashley Judd and her husband, three-time Indy 500 winner Dario Franchitti, are divorcing after eleven years of marriage, which is like a golden anniversary in celebrity years.
Just days after Us Weekly editor Janice Min urged the public to stop the single-minded "mom shell" mentality—criticizing celebrities like Hilary Duff and Bryce Dallas Howard for not dropping postpartum weight fast enough—it should come as no surprise that the woman that Goop Paltrow credits for getting rid of her…
The rumblings around the castle are ominous this week: the now-infamous Prince Harry Naked Bear Hug-Gate photos are only the tip of the iceberg, say Vegas sources, and the royal media will soon have to contend with "something pretty gigantic" (LOLOLOL pun). It appears that there's actually video of the Prince partying…
Kristen Stewart has dropped out of Cali, the movie she was going to film with Alex Pettyfer, and will not show up to the premiere of On The Road. This is probably because her co-star in the Kerouac adaptation is Tom Sturridge, Friend Of R. Patz, which would admittedly be pretty awkward.
reps have once…
We've lost count of how many "threats" Glee star Chris Colfer is at this point: dancing, singing, acting, onscreen ascot-wearing, a 2011 Time Magazine Influential Person, and now novel-writing. Sextuple threat? The Golden Globe winner and two-time Emmy nominee's debut novel, a fantasy called The Land of Stories: The…
"This celebrity couple is close to a final agreement over how everything – including the child/ren – is going to be divided in the divorce. However, the wife's legal team is having her keep one chip in her pocket for the divorce trial. If the husband's team tries any last-minute maneuvering, the wife is not afraid to…
At the BET awards last night, Bey, Jay, 'Ye and something called a Kim Kardashian sat together in a royal enclave and the photos of this momentous event have already been analyzed until the end of time. Beyoncé and Kim, who sat on the outside of their respective men, "made no effort to stretch across to chinwag." Kim…
Alec Baldwin married 28-year-old yoga instructor Hilaria Thompson in a New York City church today, and nothing was wrong unless you count the presence of Woody Allen and Soon-Yi Previn. Here's hoping Baldwin's new wife will lead him in a few sun salutations every morning to stop him from buying a one-way ticket to The…
We've heard and been subsequently bored by Rihanna and Chris Brown's allegedly coincidental run-ins at various clubs in recent weeks, but it might raise an eyebrow of interest to learn that her family seem to have happily signed off on their renewed relationship. Heading on over to 40/40 to catch the Miami Heat game…
This sounds like pure fiction but, as we're not a court of law, let's run with it — Sharon Stone is being sued by her former nanny amid allegations of racism, religious persecution and first-degree bitchery. Which, if you image the actress to live life as Ginger, her character in Casino, like I do then it starts to…
Alec Baldwin is a little unpredictable when he gets upset, and last night, someone pushed his perfectly-coifed buttons the wrong way. Baldwin tweeted that a mysterious stranger calling themselves @Scarfacemadam, "has entered the twitter-verse ONLY to harass my girlfriend." He said that this person was "borderline…