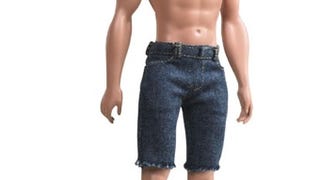 Spoiler alert, everyone I've ever met, ever: you'll be receiving this hilarious and somewhat insane-looking Jacob Black Barbie doll upon its release next February. No word yet on if a shirt, or shorts made after 1991, will come separately. [RadarOnline]
There's a graveyard filled with sassy plastic dreams, where stylish dolls with slightly oversized heads and/or tragic 80s denim shorts are buried beneath gravestones that read "Here Lies So-And So: She Tried To Mess With Barbie."
Oh look! It's Barbie as Bella Swan, and Ken as Michael Myers Edward Cullen. Ugh. Whatever, Twilight Barbie. You might think you're special, but there's already a few dolls that totally out-sparkle the Sparkly Vampire.
Dolly was on Letterman last night, where she told a funny story about one of her first visits to Times Square in the late '60s: She was mistaken for a hooker.
Last night on 60 Minutes, Dolly said her over-the-top femininity has been good for business, because people "think I'm as silly as I look, [but] I done got the money."