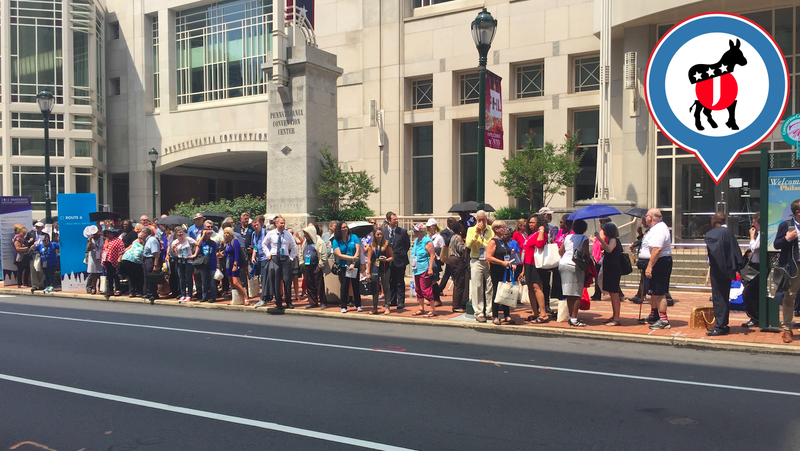 Thousands of delegates have traveled to Philadelphia to selflessly take part in their democracy. Here are probably half of them waiting for a shuttle to transport them between the Convention Center, the Wells Fargo arena, and their hotels. According to Weather.com, it currently feels like 109 degrees.
It's a cool 60 degrees in New York City right now, but in a few weeks time, we—along with the rest of the U.S.—will likely be experiencing the dead heat of summer. Here, that means sweating through your clothes while waiting for the M train, constantly inhaling the weighty stink of garbage, and listening to the city's…
Well, ladies, here we were all thinking we had control over our bodies and could resist the inherent charms that all men possess. Wrong! When they come in the room our faces practically melt off of our bodies with excitement. Or is it stress? Who knows, but a new study found that for whatever reason when a man touches…
Much unlike many a magazine editor who recommends you buy all sorts of crap that they most likely got for free, your Jezebel staff doesn't get jack shit (other than books, unsolicited). And that's how it should be. But on our own time, in our personal lives, we still buy stuff. So this is Worth It, our recommendation…
It's difficult to determine what's most awful about winter— the constant cold feet and hands, the unpleasant dread of stepping out of the shower, or the horror of opening a heating bill after a month of leaving the thermostat turned up overnight. Since hibernating for three months isn't an option, the best way to cope…
Summer can be awesome: No more heavy coats and bulky boots. The sun shines, the plants are green and the sky is blue. But if you're like me, it's hard to enjoy it while you're mopping your dripping brow with your forearm and ruining yet another blouse with copious amounts of sweat. Then: Hello heat wave.
When we saw the headline on the latest copy of the UK's Heat magazine, we just couldn't stop ourselves shelling out $4.60, just to find out who, who, WHO is famous and taking drugs!!!! It was like all our heavenly dreams had rolled up in a big ball and sprinkled themselves with icing sugar and then baked themselves…