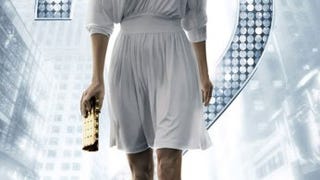 Because the track borrows from the SATC theme music and Blondie's "Rapture" — and ruins both. [Rap Radar]
MeMe Roth, the misguided anti-obesity crusader has found a new vehicle to rack up television appearances - defending Southwest Airlines for booting Kevin Smith off a plane.
Are you a pure-blooded Aryan looking for love? Are you batshit crazy? April Gaede, stage-mom of three-car-pileup-fascinating Neo-Nazi pop nymphets Prussian Blue, may be able to help! Gaede, having spawned white power royalty, is now breaking into matchmaking.
I hate Ferris Bueller's Day Off. There, I said it. And The Last Days of Disco. A piece in Slate, in which the author admits to hating The Hungry Caterpillar, has given us the courage to come out:
The recent mass-hating on Katherine Heigl has gotten us thinking about scapegoats past: those women who, for a few days, have been the recipients of disproportionate amounts of cultural hatred.