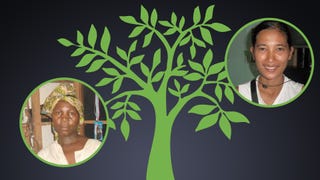 If you've ever spent time on any crowdfunding sites—from Kickstarter to Kiva—you know the amount of people seeking your money can be overwhelming. It can be hard to choose when often everyone on the site seems so deserving. (Well, it's probably less difficult to decide when you're on Kickstarter choosing between…
Psychology Today, which published Satoshi Kanazawa's incredibly offensive post on black women's attractiveness, has said he'll no longer be writing for them. Also, the site is "currently implementing measures to ensure more rigorous oversight of blogs prior to publication, including nights and weekends, when this was…
I love making out. Everyone loves making out. Unless it's with your sister—that's gross! And illegal! But there's a lot more going on behind the scenes of a smooch than just spit-swapping: brain chemicals flow! Bacteria goes nuts!
Rosie O'Donnell discussed Chris Brown on her radio show over the weekend, saying: "I just don't know why this kid seems to be held to a different standard than anyone else." Because, you know, other people throw chairs at windows, sending shattered glass down onto Times Square, and no one gives a shit!
This is the cover for the current issue of Wired magazine. The woman on the cover isn't just a model in the traditional sense: She's Limor Fried of Adafruit Industries, and very possibly the first woman engineer to grace the cover of Wired. And she looks good on it. So, some people freaked out.
Remember that guy you made out with one summer at camp? Good Morning America thinks he may be your soulmate. The clip at left exposes the new "retrosexual" trend, in which people date past loves after finding them on Facebook.
[Nagarkot, Nepal; June 10. Image via Getty]