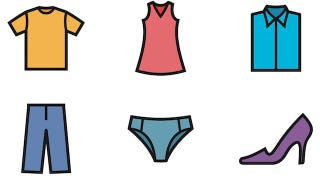 A tipster recently wrote to tell us that Forever 21 didn't divide its wares into "men's" and "women's" categories — rather, its clothes were for "men" or "girls." We decided to investigate — and to take a look at what its competitors call their male and female customers. Below, a breakdown.

Forever 21: At first…
This season, eager UK Skins fans saw the cast photo and assumed one of these humans was a lesbian, and were disappointed when Dakota Blue Richards (the girl in the black in the middle, obviously), who plays the not-lesbian, told the press that her character was, you know, not a lesbian.