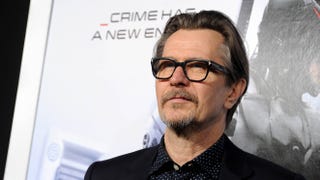 Gary Oldman issued a statement in response to the Anti-Defamation League's charges that his statements in a recent Playboy interview were anti-semitic. His apology is not bad, if a little awkward.
There's a ton of amazing talent in David Bowie's music video for "The Next Day": Bowie, for one, but also Gary Oldman and Marion Cotillard, reunited after The Dark Knight Rises. But the video itself is a dismally on-the-nose, been-there-done-that critique of organized religion. NSFWish for breasts and blood.
Obviously, we are all reading and loving R. Kelly's new autobiography Soulacoaster. (I can't wait to finish so that I can store it between my other favorite memoirs The Gastronomical Me and The Autobiography of Malcolm X.) There is however, one thing missing from this literary tour de force and that's a narration by…
In this week's TV roundup, Detective Stabler comes to Bon Temps, Olivia Wilde charms on The Colbert Report, Fiona Apple celebrates Paul McCartney's birthday with the Roots and we say goodbye to Girls.
This is some of the best damn hand-acting you'll ever see. The good news: ! The bad news: this one is for the d0000dz.
Prada did something unusual for its men's wear show: it stocked the cast with famous actors. Willem Defoe, Jamie Bell, Adrien Brody, Gary Oldman, Tim Roth, Emile Hirsch, and Garrett Hedlund all walked around modeling Miuccia Prada's latest collection of snobby, bemedaled clothes for playboys. The Times rated them as…
Jennifer Lopez kicked off her 40th birthday on the set of her new film at midnight last night with champagne and a giant chocolate cake...that had a picture of herself on it. J-Lo: Team Cake! Who knew? [USWeekly]