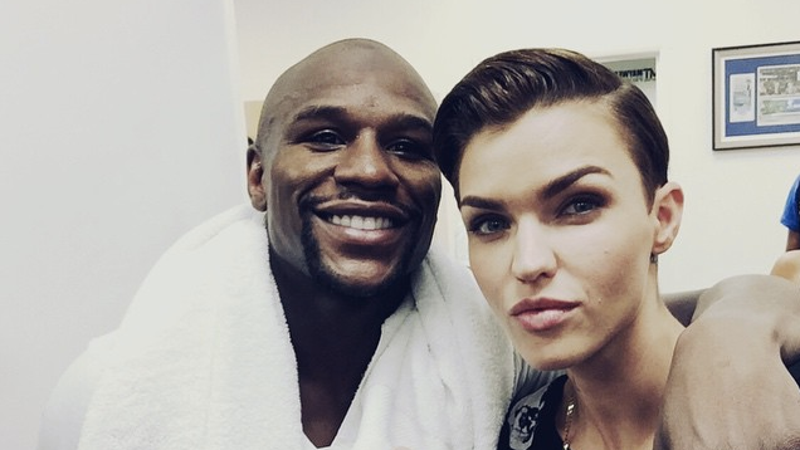 The world loves Ruby Rose a little bit less now after the Orange Is the New Black actress posted this photo of herself with domestic abuser Floyd Mayweather on Instagram with the caption "the champ!!!"
Boxer Floyd Mayweather Jr.—seen last year posting his ex's sonograms and accusing her of "killing babies"—has been denied entry into Australia due to his many domestic violence and assault convictions. Couldn't happen to a nicer guy.
Horrific details are still emerging about the death of Stephanie Moseley, an actress, dancer and choreographer whose husband Earl Hayes murdered her before killing himself, in a domestic violence incident that turned fatal. What further complicates the case is the involvement of Floyd Mayweather, a known domestic…
During Sunday's BET Awards, Nicki Minaj won the Best Female MC trophy and took time during her acceptance speech to dress down her competition. Considering her only contemporary chart-worthy rival is Iggy Azalea, it's safe to say Iggy was the target of her shade (thrown while professing "no shade").
Earlier this year, boxer Floyd Mayweather got dumped by his fiancee Shantel Jackson after he allegedly cheated on her. But Mayweather has since apparently gone batshit insane, insisting that it was he who dumped her, and that he did it because she had "a abortion." To support this accusation, he posted what he claims…
The tale of Johnny Lewis, the Sons of Anarchy actor who fell to his death in Los Feliz after murdering his elderly landlord, just keeps getting sadder and crazier. His father Michael was in one of the highest ranks of Scientology, and it's come out that the younger Lewis was trying to kick a serious drug addiction…
Donald Trump has offered to buy the site where a Muslim group wants to build a mosque so he can move it further from ground zero and "end a very serious, inflammatory, and highly divisive situation."
Winona Ryder was spotted shopping at Marc Jacobs. Perez Hilton beats us to the punchline, "She didn't steal anything." • Every celebrity and his mama had tickets to the Floyd Mayweather/Ricky Hatton boxing match in Vegas this weekend. Brangelina, Jude Law, Gwen Stefani and Gavin Rossdale were among the glittering…