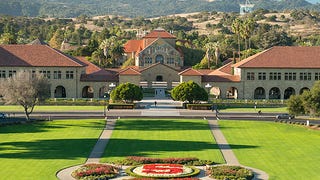 After Stanford University officials condemned sexist emails sent by Snapchat CEO Evan Spiegel during his time at school, Stanford students who have long protested the university's weak policies on sexual violence are making a more aggressive push to reform "the Rape Culture here at Stanford," as one current student…
Evan Spiegel, the boyish cofounder and CEO of Snapchat, is dying to be taken seriously. He rejected Mark Zuckerberg, opines like Steve Jobs, and hobnobs with media titans. But Spiegel's undergrad emails—when he began his path to Snapchat—show a different Evan. Did Steve Jobs ever joke about peeing on girls?
The level of interest app-makers can command for adding new features is usually limited to a dutiful parroting of the press release on tech blogs. Maybe a mass privacy freakout, if you're lucky. (Sucks, but at least you know they care!) The bros at Snapchat, however, have lived a pretty blessed life.