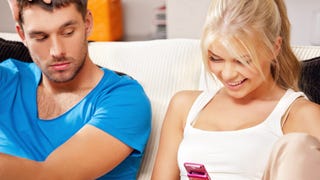 Remember back in 2012 when we thought that the world might be ending at the end of the year? O! Such simpler and more optimistic times those were! Sadly, however, things didn't go the Mayans way and the human race continues to plod into 2013, living and breathing and fighting and loving and legitimizing stupid words…
In a surely ill-fated bid to make kids more well-spoken, a school in Sheffield, England has banned slang. Says the school's deputy chief,
Another year is drawing to a close, and that means it's time for Lake Superior State University's annual List of Words Banished from the Queen's English for Misuse, Overuse and General Uselessness. After tens of thousands of nominations were submitted, LSSU narrowed it down to the twelve words and phrases which most…
A 34-year-old English woman will be spending Christmas in jail after her request for bail was denied. She was originally thrown in the clink after she let out a racist (and apparently drunken) rant during a train ride, yelling about how immigrants should just go back to their own countries — naturally, the episode…
Speaking to a crowd in South Florida and demonstrating the tact and progressive thinking for which she's now universally acclaimed, Midwestern embarrassment Michele Bachmann told a crowd in the heavily Spanish speaking neck of the woods that illegal immigrants should be deported, babies born in the US shouldn't…
I was standing in line at a coffee shop this morning when I heard a girl behind me say to her friend, "Yeah, I am totally obsessed with Breaking Bad." "Hmm, are you really obsessed with Breaking Bad?" I thought to myself, "Or do you just enjoy Breaking Bad?" Do you think about it constantly? Does it interfere with…
"Captured on our streets by a foreign lens," ran The Daily Mail headline, "shaming images that turned Britain into a laughing stock." The captions warned, "Tequila-fuelled young women strike crude poses that will (or should) mortify them in the sober light of day. More worryingly, one or two are unconscious on the…
British people are really mad about "Americanisms" entering the Queen's English. Some of the most hated make sense — nobody likes "It is what it is." But Brits apparently also hate "train station," "burglarize," and "gotten." And here's one Chris Fackrell's peeve:
In news that may cheer Ralph Wiggum — and that the rest of us should probably take with a grain of salt — research shows boys do worse in English with girls in the classroom.
German fashionisto: "She's is no runway model. Heidi Klum is simply too heavy and has too big a bust. And she always grins so stupidly. That is not avant-garde - that is commercial." Me-ow! [VogueUK]
Last week, British actors Thandie Newton and Ricky Gervais were employed by The Graham Norton Show to add some much needed British wit to the poetic script of the political porno, Who's Nailin' Palin. Naturally, Thandie Newton knocked such lines as "Why dontcha take yer nuts out of your little Gucci purse, grab your…