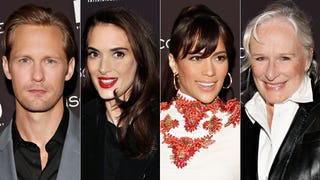 Last night at a screening of Disconnect, that new movie that seems to have approximately one zillion characters and storylines, there were two kinds of looks on the red carpet: Those embracing the sweetness and light of Spring… and those sticking to all black everything. Also: Winona!
Lindsay Lohan has moved back into her teenage bedroom on Long Island with mom/"cool mom"/party friend Dina because Thomas Wolfe was wrong: you CAN go home again. Supposedly she's returned home to help pay the mortgage on the Lohan family abode (although she herself is strapped for cash, so I don't really see how…
Picture, if you will, Kanye West swimming in a vault of precious stones a la Scrooge McDuck; after girlfriend Kim Kardashian's divorce from Kris Humphries is finalized, 'Ye apparently plans to propose with a one-of-a-kind ring made from his late mom Donda's personal jewelry collection. He visited a private jeweler…
Taking all celebrity gossip as gospel – as we should, even just for kicks – mean girl Kim Kardashian outed herself as a complete piece of shit by making fun of Demi Moore's Whip-It-related seizures at Elton John's Oscar party. She requested Devo's "Whip It" in front of the crowed room and said it was "dedicated to…
Seriously, this kid's got some great genes.