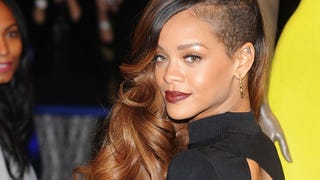 As the Rihanna bacchanal—Rihacchanal?—known as the Diamonds tour continues to suffer under the weight of four concert cancellations (Boston, March 10; Baltimore, March 12; Houston, April 15; Dallas, April 16) and late publicity appearances, the rumor mill was fed by her paparazzi-snapped exit from a Beverly Hills…
I mean, how hard is it to catch a flight? This is a rhetorical question for Lindsay Lohan, who missed her plane last night from New York to attend her trial in L.A. this morning. (We're now on her twenty-something trial. When you move into the double digits, you should get a free Shakeweight or some turtle wax or an…
Jennifer Aniston, the quintessential grown-up Judy Blume heroine, has a lot of Very Important Decisions to make in the next few months as her wedding to Justin Theroux draws nigh. Apparently she's been quizzing Charlize Theron—mom of one-year-old Jackson Theron—about the process of adoption since mutual friend Chelsea…
Ahem. Jada Pinkett Smith, one of the premiere Awesome Moms of our time, has something to say. And then she will drop the mic. But first:
Although Brad Pitt, Angelina Jolie, Justin Theroux, Jennifer Aniston, Chandler Bing and that duck called a truce at some point, as Brangelina's and Jenreaux's (?) marriages draw nearer, threatening to even land sort of around the same time, some obvious problems become apparent.
While little choreographed…
The dark sides of being Carrie Bradshaw, one can easily imagine, are as long as a grocery list: contributing to the materialistic culture of Manhattan! Perpetuating unrealistic standards of romance! Not being able to go to a bar in New York (Midtown or Murray Hill especially) without women bum-rushing you! Et cetera.
After suggesting yesterday that stalking victim Erin Andrews was kinda asking for trouble with her sexy Dancing With the Stars outfits, View co-host Elisabeth Hasselbeck has tearfully offered her apology for being an asshole. Forgive her, oh forgive her, please.
The joke on The View this morning is that the black women were taking over, including guest-host Gabby Sidibe and guest Pam Grier. And, Elisabeth Hasselbeck helpfully pointed out, in the summer she can get tan!
Batty conservative Michael Savage thinks Caroline Kennedy ought to watch her back since Hillary Clinton killed her brother John. We think she should watch out for batshit crazy conservatives. [Media Matters]
Hey! Do you feel like going into an extreme fit of rage? Well you're in luck, because we've got a clip of Elisabeth Hasselbeck introducing Sarah Palin at a rally in Iowa earlier today. Hasselbeck begins by exclaiming how happy she is to talk "for a full five minutes without getting interrupted!" She then goes on to…
Scandinavian countries spar over, defend sexist advertising and free speech laws. • Pregnant Indian women more likely to have morning sickness than Norwegians. • My Little Pony celebrates 25th birthday with tea and Elizabeth Hasselbeck. • Smart girls supposedly have a harder time getting off because, um, they think…
When casting directors ask our opinion as to which starlets could make convincing Evangelical Christians we never really thought, "Oh, yeah, MK Olsen! Totes!". But then we realized that whole 'miracle of the loaves and fishes' thing totally sounds like a trick we read on a pro-ana website. [Page Six]

Don't let her…