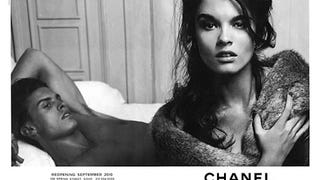 Crystal Renn is in an ad for Chanel's downtown New York store, which is reopening this fall. She poses alongside Lagerfeld boytoy Baptiste Giabiconi, whom she calls "the most gorgeous man I have ever seen, hands down."
American Apparel — plagued by debt, sales declines, production delays, and that discrimination kerfuffle — warned that its stock may be delisted. "American Apparel is unique because they're on the cusp of a total collapse," says one analyst. [MSNBC]
We all know the true cost of an H&M synthetic sweater is not reflected in its $29.90 pricetag. The fashion industry is a tremendous generator of waste, and it has a nasty habit of treating garment workers as disposable labor.
Jennifer Lopez's 15 perfumes have sold more than $1 billion at retail. She's launching a 16th, Love and Glamour, this fall. "I drive [fragrance company Coty] a little bit crazy," she says. "Because it's always not signature enough." [WWD]
SJP on Carrie's style influence: "I've never revealed as much or been so daring or made quite as many triumphant mistakes as Carrie. But I'm now bolder than I would have been had I never played this part." [People]
Posh and Becks are in an underwear ad, together! David seems to be deep in thought, perhaps pondering the wisdom of letting Armani give him hair that belongs on a Lego newscaster. Narrate Victoria's inner monologue in the comments! [Telegraph]
Madonna's fall campaign for Louis Vuitton leaked online, and the star — captured by Steven Meisel and 23 psychedelic Photoshop layers — sort of looks like a marble statue. [Fashionologie]
Everyone has a theory about what the recession will "mean" for fashion. Wanna hear often correct New York Times critic Cathy Horyn's? Oh yes you do!
In a move that smacks of Chanel-Audrey-Jean-Pierre, Dior announced it's making a 6 1/2 minute online perfume ad with Marion Cotillard and Olivier Dahan, who of course directed Cotillard in La Vie En Rose. [WWD]
Those invited to Marc Jacobs' annual holiday costume party (aka - not us) need to start preparing their costumes now. The theme has finally been announced! "Arabian Nights." We double-dare someone to go as Edward Said. [WWD, 2nd item]

The most important movie of all time, the Sex and the City movie, shot at the…