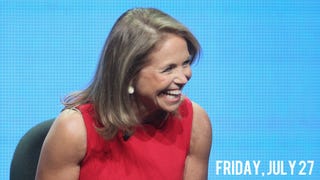 The Katie Couric talk show we've all been waiting for, all our lives, forever, has debuted its new theme song, written and performed by none other than Couric's friend Sheryl Crow. The Grammy winner talked about what went into penning the theme song for Katie:
In what could only be called Nancy Drew and the…
After Beyonce was photographed hanging out with Kim Kardashian at a "Watch the Throne" concert in Birmingham, UK over the weekend, throngs of fans took to Twitter to express their outrage. "Beyoncé and Kim Kardashian in the same picture let alone the same sentence is tragic," said one. "if your role model is Kim…
[Dylan McDermott pretends not to notice. At the Knicks/Celtics game. New York, December 16. Image via Splash.]
[Los Angeles, Septmeber 29. Image via Flynet]
[Brentwood, California; March 9. Image via Flynet]
"Linda Evangelista and Christy Turlington would go to big designers and say: 'If you don't want Naomi to be in your show, then I don't want to be in it'...Women of colour are not a trend...That's the bottom line." — Naomi Campbell, still fighting for the cause of models of color. [Vogue UK]

Speaking of women of color:…
[Los Angeles, CA; July 25. Image via Splash]
Today we came across an item on The Huffington Post written by celebrity wife and mother Shiva Rose that makes it perfectly clear that although L.A. is full of well-meaning, beautiful rich people, many of those people aren't all that smart. Or interesting.