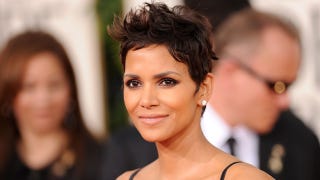 Halle Berry is preparing to go to court to deal with the custody battle of her 2½-year-old daughter Nahla.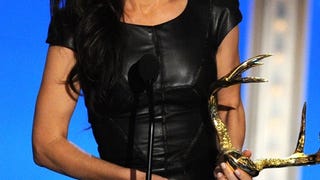 Sandra Bullock made a surprise appearance at the Spike TV Guys Choice Awards last night, picking up the Troops Choice award for Entertainer of the Year, which was voted on by members of the military. [People]
Has Lindsay Lohan turned over a new leaf? She says she's "going to India soon, before Thanksgiving hopefully," to film a BBC documentary on the trafficking of women and children.
[Lake Como, August 4. Image via x17]
Word on the street is that Amy Winehouse has scrapped the tracks she recorded for her third album. Her trajectory continues to hurtle along on a tragic course. • Remember when we told you last week that Terrence Howard was replaced by Don Cheadle in the Iron Man sequel? Well apparently it was news to Terrence, as well.
Don Cheadle will replace Terrence Howard as Jim Rhodes in the Iron Man sequel due out in 2010. Apparently Howard dropped out due to financial differences. • Rachel Zoe on her peculiar speech patterns: "Sometimes I'm working with clients that don't speak English and they'll ask, 'What is this bananas?'" • New York had…
Lindsay Lohan and her family celebrated Thanksgiving with a day of group therapy! Meanwhile, her beau Riley Giles met the fam, then spent his nights partying without LL. Bad boyfriend! [Page Six]