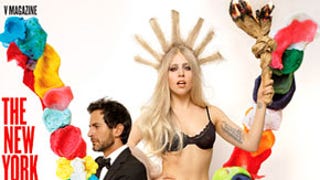 A dejected, underwear-clad Lady Liberty-Gaga and a tuxedoed Marc Jacobs, shot by Mario Testino, cover V's newest issue. [NYDN]
Lanvin for H&M is happening! The men's and women's collections will hit over 200 stores worldwide on November 23. [WWD]
As Jenna mentioned last week, Dockers is pushing a new ad campaign that's based around "trying to inspire men to be men." After reading the Dockers "Man-ifesto," I'd say all it does is continue the Bro-ifying of all things male.
Whitney Port isn't in Kell On Earth. And on Lauren Conrad: "We still keep in touch on a friendship level. But in terms of fashion we don't really talk about it anymore because we're not in the same arena." [PopEater]
Paris Hilton, aka the rich man's Heidi Montag, premieres her line for Dollhouse. "Some pieces, like the tees with her face plastered on them, are quintessentially Paris, and others are a bit more rock 'n roll like her sister Nicky." Huh? [FabSugar]
Meanwhile, in the world of the equally inexplicable, Jessica Simpson…
Anna Wintour-mocking Rachel Zoe has been dropped from her management company because "they didn't want to anger Anna and Anna is more important." [NY Post]

Agyness Deyn, the Most Important Model In The Universe right now, turns out to not really be 18 or even 21 (ages she's given to various interviewers) but 24. Which…