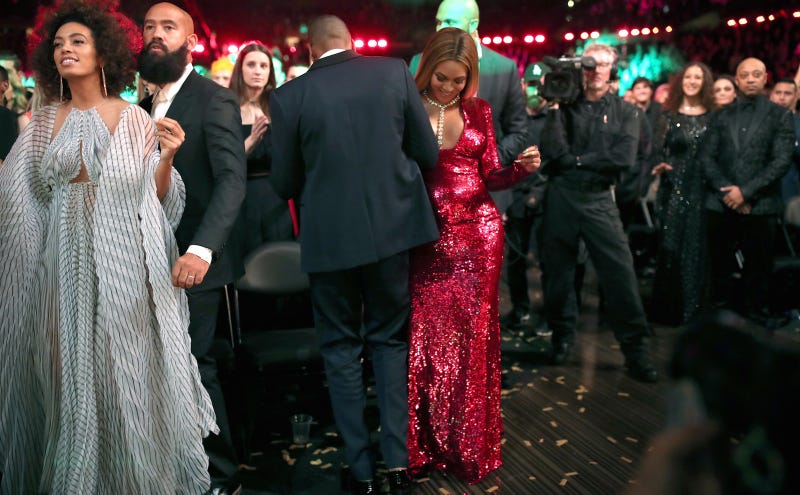 Last night after everyone (including Adele) was smarting from Beyoncé's grossly unfair Album of the Year loss, Tidal gently patted us on the heads and placed in our hands a midnight surprise-release that assuaged the disappointment: a new single from DJ Khaled's album featuring Bey and Jay.

America's life coach DJ Khaled launched his new collaboration with Palmer's Cocoa Butter lotion today, which is basically regular Palmer's but with Khaledian quotes on the bottle. ("Live life smooth," for instance.) I'm a lifelong Palmer's devotee but I'm deeply ambivalent about this collabo in general, other than a)…
DJ Khaled, a prolific Snapchat over-sharer, told Jimmy Kimmel last week that he would be Snapchatting the birth of his son, and he is a man of his word. Also, he did warn us.

DJ Khaled, King of Posi Vibes and Also Snapchat, was so moved by his time opening for Beyoncé during the North American portion of her "Formation" tour that he wrote her a beautiful, emoji-filled thank you note. It was, of course, posted to Instagram.

DJ Khaled, whose bewildering Snapchat advice bombs continue to be gleefully discovered by the mainstream, came on Jimmy Kimmel Live last night to share some important pro bono life lessons with the man who needs it most: Jeb Bush.
The mainstream world continues to discover DJ Khaled through his Snapchat success, and the latest guest to the Palestinian's Success! party is The Daily Show.
Do you know about America's newest inspirational guru DJ Khaled? He is not just the guy behind all those posse radio tracks; he is a teacher and a friend to Miami, as well as the rest of the world. From his social feeds, we've learned so much. If it rains, give thanks. If you get pulled over on your jet ski because…
Remember the other night when The Game dumped two bottles of $1,400 Ace Of Spades champagne on the street and then bought hot dogs for everyone, and you were like, "I would really enjoy this sort of joie de vivre in a square"?