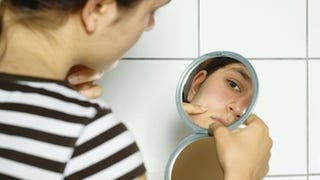 A study found girls from higher-income households, and particularly African-Americans, are likely to develop breasts and pubic hair earlier if they don't live with their biological father. The presence of other adult males in the home doesn't change the results.
In the wake of a controversial decision to pull sexually themed applications from the iTunes store, Apple is toying with adding a new "explicit" category to its current offerings. While my inner feminist cheers, my inner technophile is concerned.
J-PAL is going to change the way we think about poverty. Fast Company writer Ryan Blitstein takes a closer look at the three person team (two women and one man) who are casting a critical eye on development theory.
More teenagers are getting plastic surgery in the hope that it will make them look "normal," but can you get self-esteem from a scalpel?
New research shows that when mothers are exposed to some pesticides and chemicals during pregnancy, male offspring are born with smaller penises and feminized genitals. Chemicals used in some food wrapping, cosmetics, baby powders and flame retardants have been found to interfere with male hormones in vertebrate…