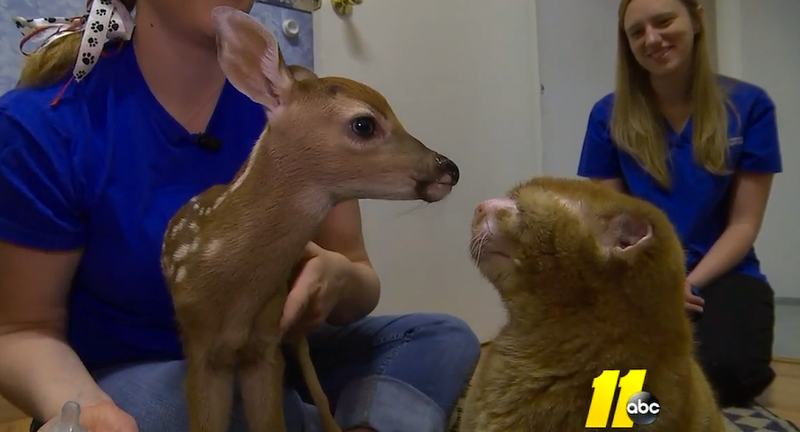 Get ready for something that will warm the cockles of your cold, black hearts. Two furry residents of an animal emergency hospital—a kitty who was burned in a fire and an abandoned fawn—have become unlikely friends. Russell the cat was rescued from a house fire over a year ago in Raleigh, North Carolina. Since then,…
Some Jackrabbits finally decided to live up to their name and multiply all over one North Dakota Development. At first the jackrabbits were welcome. "Right away I thought they were real cute," said one resident. "And now they're becoming a big nuisance," she said of the 40 to 50 jackrabbits she sees running across her…
Harry Whittier Frees may have been the first to take pictures of kitties doing human-like things, like riding a train or shooting a cannon. These photos were taken a century ago, back when photography required much more patience than it does today. Frees said he was initially inspired to take these photos when a party…
Ugh, what a day. So much rough stuff. We need a quick squee break, and we'll start with this Christmas Cat, from Fuck Yeah Cute Animals. Below, feel free to post some soothingly cute videos, gifs or pix. Sigh.
Amanda Seyfried appears in the April Elle holding a lamb. If this sounds familiar, it's because the March issue of Elle Japan, widely distributed online, had Penelope Cruz clutching the same animal. What's up?
Playing pranks isn't just a human thing—dogs and cats like to do it, too, as this collection of photobombing pets shows. Mr. Icy Stare here seems to be annoyed by Ol' Happy Dog's joy. Lighten up, cat.
As part of Sydney's Vivid LIVE festival, Laurie Anderson created a 20 minute concert specifically for dogs, with the actually music being "mostly inaudible" to their human owners. It appears that the dogs had a rockin' good time:
Watch out the next time you plop down on your couch. As shown in the clip at left, there may be an adorable kitten hiding between the cushions. [Video Gum]
• A cute, unnamed 18-day-old hippo calf made her first public appearance at the Berlin Zoo yesterday. She is the first hippo to be born in Berlin in three years. •
Who would have thought that a paw could be such a pick-me-up? Check out the precious paw pads of Wildbaer, the youngest polar bear at the Stuttgart Zoo in Germany. [BWE]
It's not even noon on Tuesday and already it feels like this week is never going to end. Luckily, Wired has put together the reader's choice of the top 10 most incredible (read: cute!) animal videos to help us get through the work week. Do yourself a favor and take a few minutes to hang with a hedgehog nibbling on a…